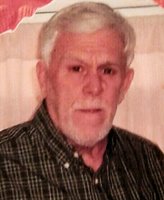 Howard Thomas Ballew, Jr.
Howard Thomas Ballew, Jr., 68, of Doniphan, Missouri, died Friday, August 11, 2017, at Southeast Hospital in Cape Girardeau, Missouri.
Mr. Ballew, son of Howard Thomas and Nadine (Johnson) Ballew, Sr., was born August 27, 1948, in Poplar Bluff, Missouri. He had worked for the railroad industry and attended Safe Haven Community Church in Doniphan.
On December 30, 2011, he was married to Sharlie Tidwell in Poplar Bluff and she survives.
Also surviving are 2 sons, Branson (Nikki) Knight of Doniphan and Kason (Kathy) Knight of Ellsinore, Missouri; 1 daughter, Michelle (David) Ballew of Poplar Bluff; 6 grandchildren, Matthew Ballew, Bryan (Jaclyn) Childers, Haley Bishop, Waylon Knight and Lilly and Kase Knight; 4 great-grandchildren, Madison, Mason and Kayden Ballew, Abi Childers; and a special aunt and uncle, Bob and Retha McManus of Delta, Missouri.
He was preceded in death by his parents, his first wife, Ann Ballew and a sister, Glenda Mae Lawson.
A visitation will be held Monday, August 14, 2017, from 4 – 7 p.m. at the Edwards Funeral Home in Doniphan. The funeral service will follow at 7:00 p.m. in the funeral home chapel with Pastors Deborah and Oscar Robertson officiating.
The family of Mr. Ballew would like to acknowledge with deep appreciation the wonderful treatment he received at Southeast Hospital in Cape Girardeau. The ICU staff, Dr. Obisesan and Dr. Nataliya Petrovna Kozodoy provided excellent care.
Memorials may be made to Safe Haven Community Church, Building Project, RR 3, Box 3471, Doniphan, MO 63935