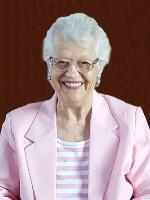 Ella Mell Mobley
Ella Mell Mobley, 89, of Fairdealing, Missouri, departed this life Thursday, May 11, 2017, at her residence in rural Ripley County, Missouri.
Mrs. Mobley, daughter of Frank and Eva (Syria) Lehenbauer, was born June 30, 1927, in Watonga, Oklahoma. She had retired as a social worker with the Missouri Division of Family Services. Mrs. Mobley enjoyed reading, painting, crocheting, quilting and generally creating special memories for her family. She had taught Sunday School for many years at Bethany Church and was a member of the Flatwoods Extension Club.
On February 20, 1953, she was married to Lavell Mobley at Bethany Church in Doniphan, Missouri. He survives.
Also surviving are 4 children: David (Melanie} Mobley, Deborah (David) Knight and Brian (Patsy) Mobley, all of Doniphan and Lisa Mobley of Rogersville, Missouri; 1 brother, Kay (Faye) Lehenbauer of Gatewood, Missouri; 4 grandchildren, Michael Knight, Kevin Knight, Christopher Mobley and Elizabeth Mobley; and 2 great-grandchildren, Alex and Evan Knight.
She was preceded in death by her parents; and 2 brothers, Johnny and Frank Lehenbauer.
Visitation will begin at 3:00 p.m. Saturday, May 13, 2017, at the Edwards Funeral Home in Doniphan. The funeral service will follow at 4:00 p.m. in the funeral home chapel with Brother Larry Mobley officiating. Burial will be in the Bethany Cemetery.