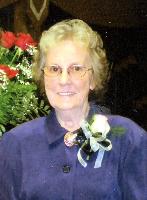 Mary Jo McCollumn
Mary Jo McCollumn, 79, of Doniphan, Missouri, died Sunday, May 7, 2017, at Current River Nursing Center in Doniphan, Missouri.
Mrs. McCollumn, daughter of Willie and Irene (Briscoe) Moss, was born December 7, 1937, in Wayne County, Missouri. She had retired as a dietary manager for Ripley County Memorial Hospital in Doniphan. Mrs. McCollumn enjoyed cooking, crocheting, sewing and reading.
Surviving are 5 children; Bonita Hill, Jeanne Brown, Martha Kelly and Rosie Engelkin, all of Doniphan; and Deborah McCollumn of Oxly, Missouri;1 sister, Edith RobInson of Wappapello, Missouri; 1 sister-in-law, Beverly Moss of Festus Missouri; 13 grandchildren and 22 great-grandchildren.
She was preceded in death by her parents; 2 sisters, Katie Whitford and Margie Moss; 4 brothers, Fred, Robert, Johnnie and Elmer Moss; and Darrell McCollumn, to whom she was married for 27 years.
Visitation will be held Wednesday, May 10, 2017, from 10-11:00 a.m. at the Edwards Funeral Home in Doniphan. A graveside service will take place following the visitation at 12:30 p.m. at the Shiloh Cemetery in Shook, Missouri.