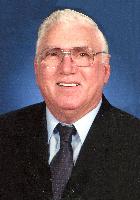 John D. Young, Jr.
John D. Young, Jr., 75, a life-long resident of Doniphan, Missouri, departed this life Sunday, May 7, 2017, at his residence in Doniphan.
Mr. Young, son of John D. and Trellis (McDowell) Young, was born April 3, 1942, in Ripley County, Missouri. He had been the contract agent of the Doniphan License Bureau office. Mr. Young also owned and operated a body shop for many years. He was active in the Democratic party and was an avid fisherman and hunter. John was a member of the Doniphan Church of Christ.
On March 31, 1989, he was married to Ruth Fuchs in Corning, Arkansas, and she survives.
Also surviving are 2 sons; David Young and Stephen Young, both of Doniphan; his mother, Trellis Young of Doniphan; 2 step-daughters, Trudy (Dewayne) Coleman of Poplar Bluff, Missouri, and Judy (Mike) Stevenson of Doniphan; 1 sister, Ruby (Mike) Hodo of Doniphan; 1 brother, Dewey (Marilyn) Young of McAllen, Texas; 7 grandchildren and 13 great-grandchildren.
Visitation will take place Wednesday evening, May 10, 2017, from 5 – 8 p.m. in the Edwards Funeral Home in Doniphan. The funeral service will follow Thursday morning, May 11, 2017, at 10:00 a.m. in the Edwards Funeral Home chapel with Wilford Bonnell and Steve Sanders officiating. Burial will be in the Doniphan Cemetery.