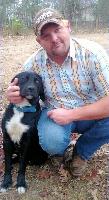 David Joe Ricker
David Joe Ricker, 34, of Doniphan, Missouri, departed this life Thursday, May 4, 2017, at Poplar Bluff Regional Medical Center in Poplar Bluff, Missouri.
Mr. Ricker, son of Larry Dean and Ruthie L. (Turrentine) Ricker, was born July 18, 1982, in Paragould, Arkansas. He had been employed in industrial construction. Mr. Ricker enjoyed hunting, fishing, his dogs and the outdoors. He also liked arrowhead hunting, watching his nieces and nephews play ball and talking about God. He attended Shepherd's Fold Church in Neelyville, Missouri.
On February 5, 2016, he was married to Kimberly Owen at Neelyville, Missouri, and she survives.
Also surviving are his mother, Ruthie L. Ricker of Doniphan; 1 son, Caleb Joe Ricker of Doniphan; 3 step-children, Jamie (Brian) Gross and Harley Patterson (Brian Dozier) both of Lafayette, Tennessee, and Jacob Thompson of Westmoreland, Tennessee; 4 sisters, Lisa Ricker of Naylor, Missouri, Kimberly (Chris) Moore of Steele, Missouri, Michell (Donnie) Turner of Doniphan and Kris Rauch of Duquoin, Illinois; 1 brother, Larry (Kim) Ricker of Doniphan; 4 grandchildren; and several nieces, nephew, aunts, uncles and cousins..
He was preceded in death by his dad, Larry Dean Ricker.
Visitation will start at noon Wednesday, May 10, 2017, at the Edwards Funeral Home in Doniphan. The funeral service will follow at 2:00 p.m. in the funeral home chapel with Brother Jeff and David Crain officiating. Burial will be in the MoArk Cemetery.