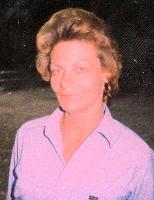 Nadine Marie Mays
Nadine Marie Mays, 73, of Doniphan, Missouri, died Tuesday, May 2, 2017, at her residence in rural Ripley County.
Mrs. Mays, daughter of the late Orvind and Della Mae (Cook) Bowen, was born May 26, 1943, in Kingston, Arkansas. She had been a returns coordinator in the Wal-Mart Distribution Center. Mrs. Mays enjoyed fishing and camping but her passion was a beautiful yard.
On October 16, 1984, she was married to Terry Mays in Rogers, Arkansas, and he survives.
Also surviving are 4 sons: Terry Wade Mays and Thomas David Mays, both of Rogers, Arkansas; Michael Wayne Mays of Bella Vista, Arkansas, and Ayron Carlton of Grove, Oklahoma; 1 sister and 1 brother, Bobby Bowen of Nob Hill, Arkansas; and 6 grandchildren and 2 great-grandchildren.
A memorial visitation will take place Saturday afternoon, May 6, 2017, from noon until 2:00 p.m. at the Edwards Funeral Home in Doniphan.